click to enlarge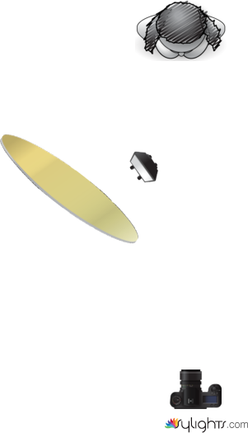 Just one light, standing on the ground, directed towards a golden reflector. The reflector is mounted on a special bracket to hold it. The camera's white balance is set to tungsten with the effect, that the (golden) light on the model is neutralized, and with the nice sideeffect that the background gets cold and blue. Cmp. the setup shots: the first one is shot with a neutral white balance, the second one with tungsten. "Nicer viewing":http://www.flickr.com/photos/galllo/5759136397/lightbox/. Note -- for the contest: [DIY Ring Flash Contest]
Just one light, standing on the ground, directed towards a golden reflector.
The reflector is mounted on a special bracket to hold it. The camera's white balance is set to tungsten with the effect, that the (golden) light on the model is neutralized, and with the nice sideeffect that the background gets cold and blue.
Cmp. the setup shots: the first one is shot with a neutral white balance, the second one with tungsten.
Note — for the contest:
[DIY Ring Flash Contest]