click to enlarge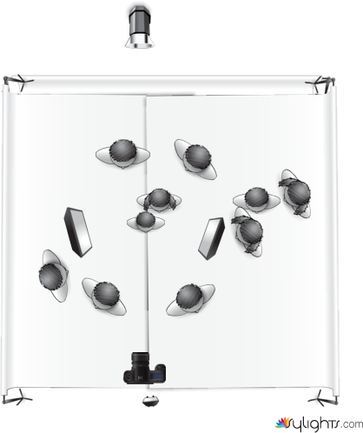 Presenting to you the amazing crew of The Underwater Realm. The concept was to create an extremely stylized and dramatic Behind the Scenes image of the cast & crew at work giving a sneak preview at the awesome project that they're putting together. This was the first time I had actually had the opportunity to work with a real underwater studio and it presented a whole new set of challenges I had not previously thought of!!! The underwater realm have been in over 61 weeks of production, getting ready to begin Principal Photography and this was the first time they had actually assembled the entire hair, makeup, costume crew with a couple models to do some live tests... it worked. We'll be doing our own Behind the Scenes both short (for the SLRLounge) and long (for our DVD backers) on how the scene was created, lit and more... ! Be sure to check back :) Check out their Behind the Scenes video blog here: http://www.theunderwaterrealm.com/archives/509 And our blog post of that week here: http://www.vonwong.com/blog/week-3/ Setup light diagram provided by Sylights.com: (coming soon) Our tour is sponsored by: http://www.slrlounge.com/ Studio Equipment/lighting/equipment sponsored by: www.lovinpix.com
Presenting to you the amazing crew of The Underwater Realm.
The concept was to create an extremely stylized and dramatic Behind the Scenes image of the cast & crew at work giving a sneak preview at the awesome project that they're putting together.
This was the first time I had actually had the opportunity to work with a real underwater studio and it presented a whole new set of challenges I had not previously thought of!!!
The underwater realm have been in over 61 weeks of production, getting ready to begin Principal Photography and this was the first time they had actually assembled the entire hair, makeup, costume crew with a couple models to do some live tests… it worked.
We'll be doing our own Behind the Scenes both short (for the SLRLounge) and long (for our DVD backers) on how the scene was created, lit and more… ! Be sure to check back :)
Check out their Behind the Scenes video blog here:
http://www.theunderwaterrealm.com/archives/509
And our blog post of that week here: http://www.vonwong.com/blog/week-3/
Setup light diagram provided by Sylights.com: (coming soon)
Our tour is sponsored by: http://www.slrlounge.com/
Studio Equipment/lighting/equipment sponsored by: www.lovinpix.com